Mrs Magdalini Riga was born in Larissa and studied Medicine at the Univerisity of Thessaloniki. In 2000 she completed her Medical studies, was formally proclaimed a Registered Ophamologist, and began her private prectice as a specialist in Opholmology in Larissa, Greece.
In 2001, she trained as a Scientific Associate in the Orthopaedic Department of the Paediatric-Ophthalmology at the University Ophthalmological Clinic, AHEPA Uninverity Hospital in Thessaloniki, specialising in childhood-Paediatric diseases.
In 2004, Mrs Riga underwent a training course in Refractive Surgery (Laser for myopia, astigmatism, hypermetropia and presbyopia) in the Faculty of Medicine, Department of Ophthalmology at the University of Crete.
In 2014, Magdalini Riga specialised in complicated cataract and Vitrectomy interventions of the Anterior and Posterior chamber of the eye at Agarwal's Eye Hospital in Chennai, India.
From 2015, she has inaugurated new facilities in a new Ophthalmological Surgery in the Medical Centre "My Doctor" in Larissa and is presently in charge of the Ophalmological Department. While from May 2017 Mrs Magdalini Riga has undertaken the direction of a brand new Private Practice Ophalmological Clinic "SELARL du Dr. Riga" in Orange, France.
Magdalini Riga has participated in many Greek and International Conferences, as well as in the writing of scientific papers published in Greek and foreign scientific journals.
The Pan-Hellenic Society of Paediatric Ophthalmology of Greece
The Methodist Hospital in Houston, USA
The Pan-Hellenic Medical Association of Greece
The Medical Association of Avignon-Vaucluse, France.
The Ophthalmology Clinic of Mrs. Riga at My Doctor Medical Centre is in operation since 2015 and is located in the central square of Larissa.
Its creation was based on the contemporary needs of providing specialized scientific services across the spectrum of Ophthalmological ailments and disorders supported by the latest medical equipment, according to the European high quality standards of Ophthalmology.
In addition, the design of the space was specifically and carefully designed to give patients a warm and pleasant environment of comfort and luxury. It should be noted that it is easily accessible for the disabled.
The basic philosophy of the practice is human-centred, aiming at preserving the health of t he eyes.
For this reason, an integrated primary health care ophthalmology unit has been set up, with modern state-of-the-art diagnostic Ophthalmological equipment to offer the patient high-quality services and in-depth coverage of the whole range of Ophthalmological disorders.
An important advantage is the common sharing and coexistence in the same office spaces with other medical specialised surgeries i.e. Pathology, Surgical Practice and Medical Laboratory sectors, was deemed necessary in order to make available services that would quickly and immediately respond to any medical care and arising health problem, where a combination of medical consultation, examinations and diagnoses would be required.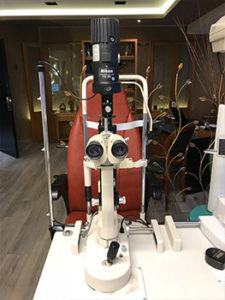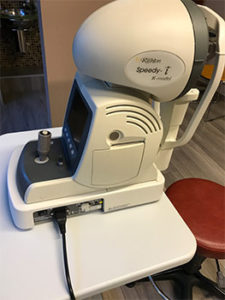 The surgery of Ophthalmologist Magdalini Riga in Larissa is fully equipped with most modern up to date state of the art medical devices, for the diagnosis and treatment of all the spectrum of Ophthalmological diseases. Our ideais centered on the concept of keeping up with the rapid advances in Health Technology and in particular the application of new methods and tools for Ophthalmology, to achieve better eye health.
Special attention is paid to the control, diagnosis and treatment of eye diseases, especially to the tender and sensitive childhood, which led to the establishment of a Department of Child and Paediatric Ophthalmology, especially equipped and with the appropriate tests for newborn, infants and young children.  The clinic also has the appropriate equipment for examinations for people with Ophthalmological disabilities.
Madame Rigas' excellent Medical education, training and long experience in Ophthalmology, her dedicated surgical commitment as well as her constant keeping abreast with the latest advances in her Medical Speciality through participation in national and global conferences, have brought her to the forefront of Ophthalmology practice in Greece and abroad – France, where she also practices her professional services.
Respecting the need of modern man to choose the best option for his valuable sense of vision, Magdalini Riga has established a set of special examinations and surgeries.
Full Ophthalmological check up

Visual acuity measurement for far and nearsighted vision, intraocular pressure control and Fundus examinations or Retina control.

Study of glaucoma:

Auto-perimeter-optic control, ganglion cell-GCC Thickness measurement and measurement of nerve fiber-RNFL thickness with OCT of the optic nerve.

Pachymetry:

Control of corneal thickness in glaucoma patients and prospective patients for refractive surgery.
Contact lenses:

– Application of all types of contact lenses (conventional, monthly, toric, multifocal and colour)
– Application of contact lenses in patients with keratoconus
Retina Control Examination study:

Fundus tests using Goldman, an ophthalmoscope suitable for infants and young children, OCT for macular disease and epithelium Fundus photography.

Biometry:

It provides the ability to measure the appropriate intraocular lenses, performed during pre-operative check prior to cataract surgery.

Child Ophthalmology Department:

– Ability to control newborn babies at birth
– Study-treatment of amblyopic and other paediatric-eye problems at all ages
– Check with special tests suitable for children.
Monday :

10:00 – 13:30 | 18:00 - 21:00

Wednesday :

10:00 – 13:30 | 18:00 - 21:00

Thursday :

18.00 - 21.00

Friday :

10.00 - 13.30 | 18.00 - 21.00